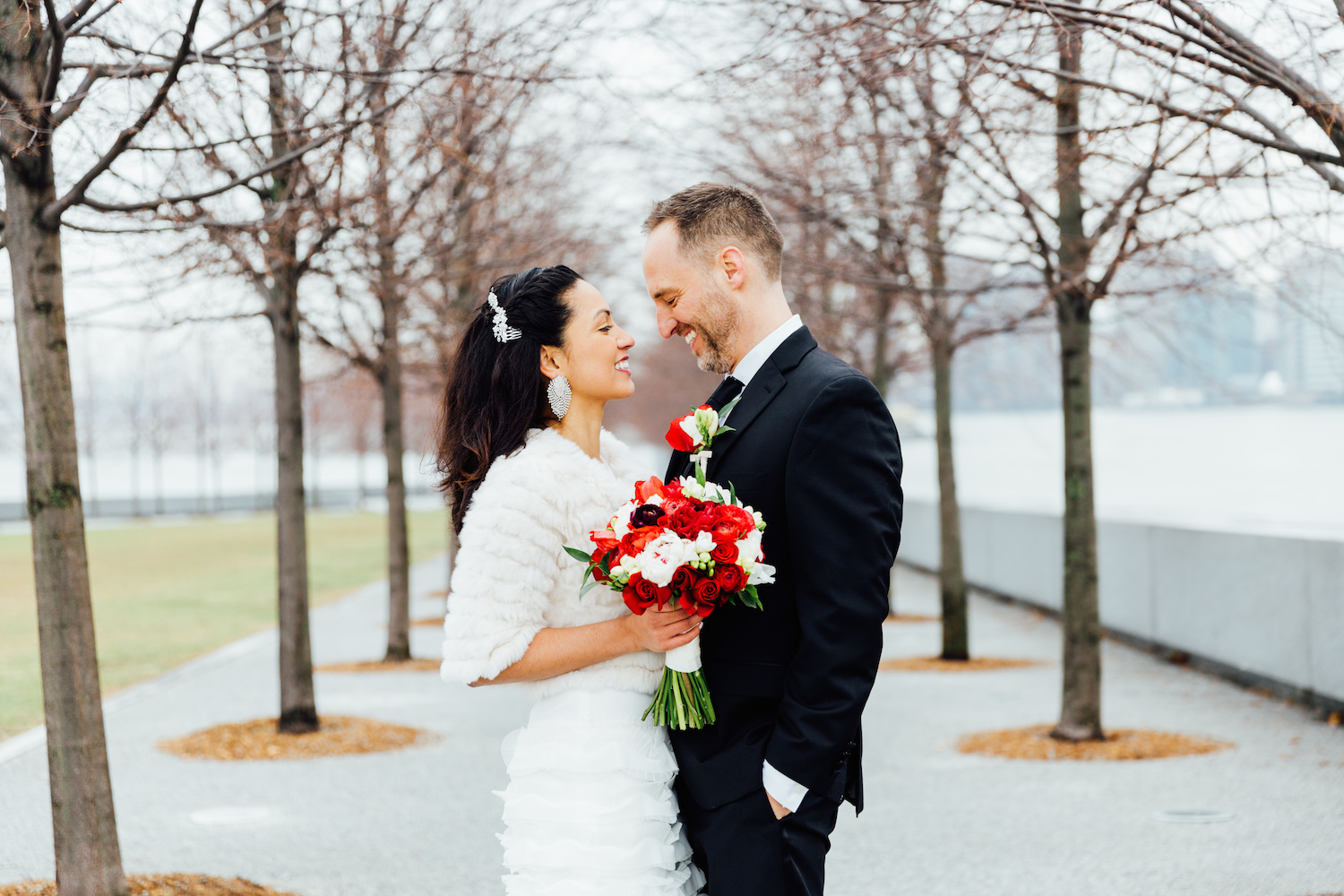 Are you planning a winter pop-up wedding or elopement? You may want to plan your celebration around the beautiful scenery of the season–including snow-capped trees, the smell of fresh pine, and colorful winter flowers. While the air might be chilly, you can keep yourself warm on your wedding day with some clever ideas that add to the romance of your marriage.
Elegant Fur
If you're planning an outdoor pop-up wedding this winter, there are plenty of adorable ways to stay warm while still looking chic in your wedding photography! Look for a sophisticated fur wrap that you can drape over your shoulders as an elegant addition to your wedding dress.
If you decide to include a small bridal party at your pop-up wedding, you can consider giving them matching fur or simple shawls that will keep them cozy and classy throughout the wedding.
Cozy Fireplaces
Whether you're getting married in the countryside, the heart of the city, or at your favorite restaurant with stunning views, there's nothing more romantic than a crackling fireplace. Pop the Knot can help you find a venue with cozy fireplaces, so you and your guests can stay warm during the entire celebration.
Hot Cocoa and Coffee Bar
Want to feel warm from the inside out? Coffee and hot cocoa bars can be a fun addition, especially for winter weddings. We'll help you set up the station with delicious ingredients like marshmallows, fudge, peppermint candy, whipped cream, and sprinkles. Your guests will love being able to personalize their drinks, and you'll have a unique way to stay warm during your wedding!
Romantic Blankets
If you're getting married in a rustic, outdoor setting, consider asking your photographer to take a few photos of you and your groom with a flannel or cashmere blanket wrapped around your shoulders. With the sun shining through the trees and a dusting of snow on the ground, a blanket can add to the romance of your day while protecting you from the cold.
Glimmering Candles
There's no better way to celebrate warmth, love and light than with a collection of glimmering candles. Pop the Knot can create beautiful decor and candles that match the theme of your wedding and add an elegant glow. With soft, romantic scents like vanilla and lavender, candles can add a peaceful quality to your winter pop-up wedding.
As you plan your gorgeous winter wedding, don't forget to find creative ways to stay warm! Pop the Knot can help you manage all the details so your pop-up wedding goes off without a hitch. Get started today!
0
Read More